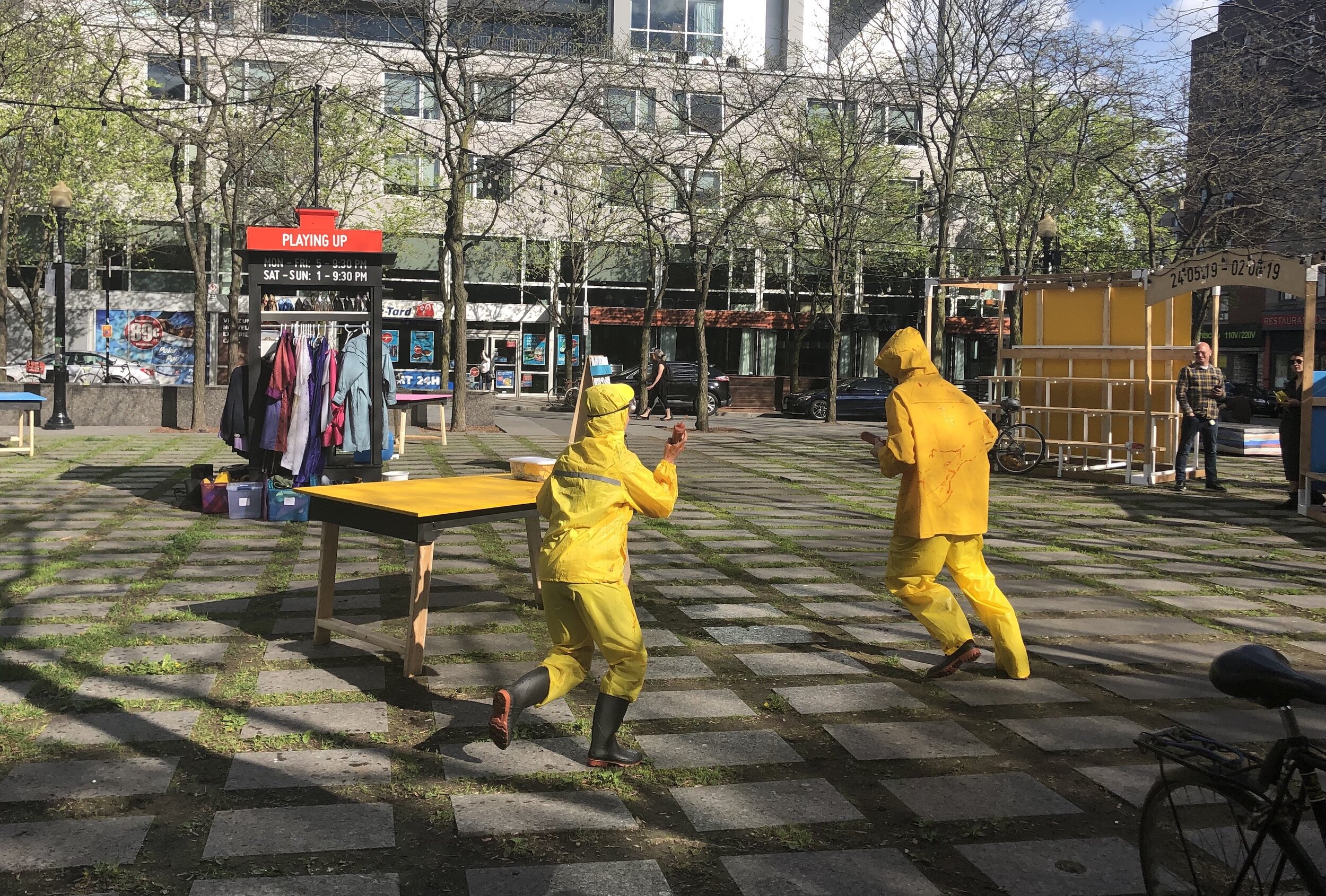 Interactive workshops in public space, based on a live art game for adults and kids
Playing Up is a participatory project in public space that explores live art and its capacity to bridge the generational gap.
Turning food into clothing. Lying on the hood of cars. Dancing with animals. Getting into a ketchup and soya sauce fight. Inventing a new sport. Walking adults on a leash. Contacting people who share your name. Jumping until you can't. Peeling beets while thinking about your home. Jamming with kitchen appliances. Documenting your movements in the city. Performing a fantasy in 3 minutes sharp.
Playing Up is a card game that brings together children and adults. The deck of cards is used as the basis for public workshops led by artists and art educators. These workshops bring players to explore major live art themes and artworks. They provide a playful introduction to live art and to the ways artists think about and create their projects.
Form a team, draw a card and slip into the shoes of an artist for the time of a game!
History of the project
Playing Up was created in 2016 by Sybille Peters of Theatre of Research (Germany) and produced by the Live Art Development Agency (UK). The original game features 36 cards by world-renowned live art collectives and artists. Since 2016, it has been used around the world for "play-ins" in different contexts and venues, ranging from short workshops in museums to public interventions in festivals.
In 2019, Montréal-based LA SERRE - arts vivants established a partnership with the Live Art Development Agency to adapt the game to the Montréal context. LA SERRE mandated interdisciplinary performance collective projets hybris to imagine and coordinate said adaptation. Curated by Philippe Dumaine, the Montréal version adds 12 cards based on artworks by local artists and collectives to the original 36-cards deck. It became a flagship project from the 13th edition of OFFTA - live art festival, produced by LA SERRE in Montréal. Free public workshops ran for 10 days on two dedicated sites in the city, thus engaging more than 200 000 players and passersby, making it the largest "play-in" to date.
About the game
Each of the 48 cards in our version of Playing Up features a seminal artwork by a live art collective or artist. The cards include a short, accessible description of the work, a drawing and an instruction that will either bring the players to reenact parts of the original performance or to put themselves back in the mind of the artists while they were creating the piece.
The cards are divided in 6 categories that foster thoughts and discussions about the space, objects and people surrounding us; about political and social constructs; about engagement, personal limits and desires; about the city, its organization and stories:
BODY & PERCEPTION OUT & ABOUT MEMORIES & COLLECTIONS
BEINGS & THINGS DARE & DANGER SCIENCE & TINKERING
From the artworks of
36 international artists and collectives: Marina Abramović, Vito Acconci, Barby Asante + Stockwell Good Neighbours, Bobby Baker, Bow Gamelan Ensemble, George Brecht, Chris Burden, Judy Clark, Stephen Cripps, Curious, Jeremy Deller, Marcel Duchamp + Man Ray, VALIE EXPORT + Peter Weibel, Marcia Farquhar, Peter Fischli + David Weiss, Forced Entertainment, Tehching Hsieh, Internationale Situationniste, Zoe Laughlin, Lone Twin, Mad for Real, Mammalian Diving Reflex, Eva Meyer + Sybille Müller, Denis + Eric Oppenheim, Mike Pearson, Harold Offeh, Yoko Ono + John Lennon, The People, Martha Rosler, Showcase Beat Le Mot, Santiago Sierra, Joshua Sofaer, Jana Sterbak, Theater of Research + Geheimagentur, David Weber-Krebs + Maximilian Haas, Aaron Williamson
12 Montréal artists and collectives: 2Fik, Rachel Echenberg, Sylvie Cotton, Stéphane Crête / Momentum, Mathieu Lacroix, MAUVE, Devora Neumark, PME-ART (Caroline Dubois + Claudia Fancello + Jacob Wren), Manuel Roque, Françoise Sullivan, Wants & Needs Danse, WWKA (Women With Kitchen Appliances)
How to play?
When arriving to the site of the "play-in", players are greeted by a member of our team who will explain the game and assign the team to a mediator. Teams of 2 to 7 people (adults and children) can be formed in advance or on site. The mediator assigned to the team will follow them for their whole experience, providing guidance, support and engaging the players in reflections and discovery. An ideal game lasts 1 hour, but shorter and longer games can be played, depending on the context.
1. Form your team
2. Use the dice to choose a category
3. Select a card from this category
4. Read the card with your team and follow the instruction
5. Play as many cards the time permits!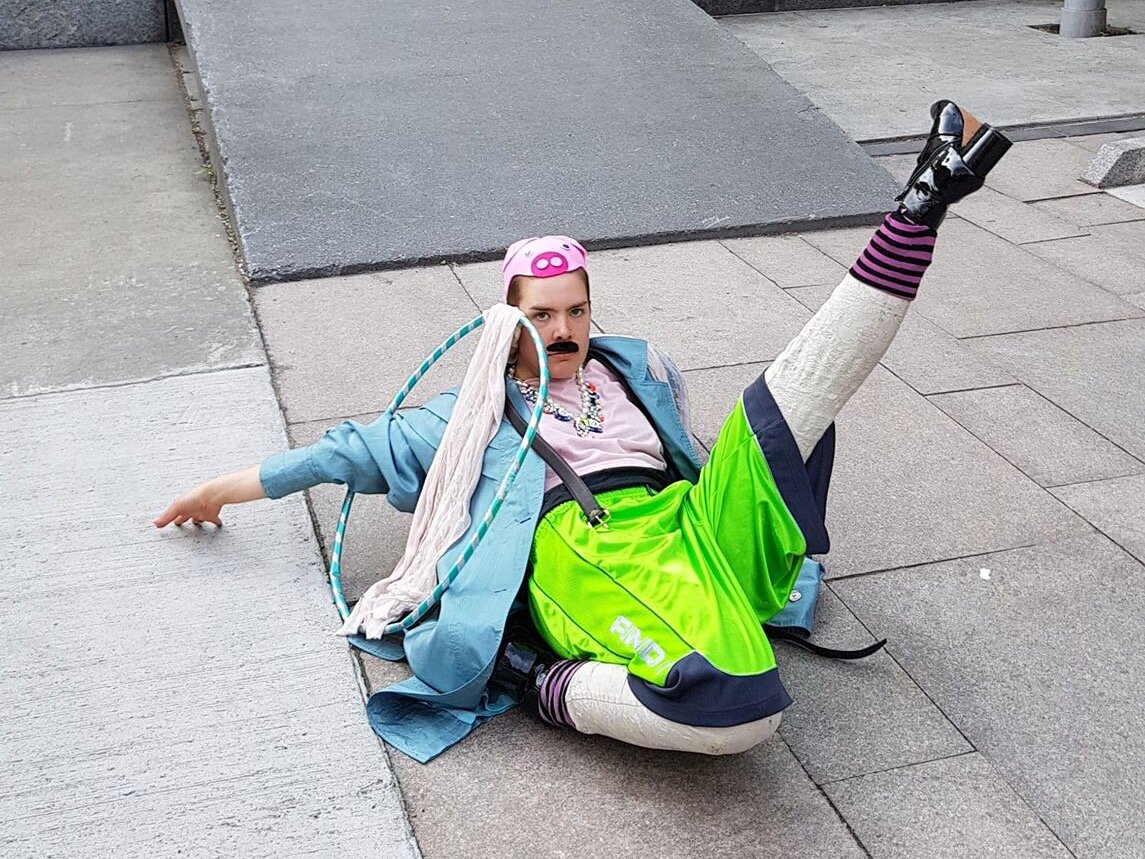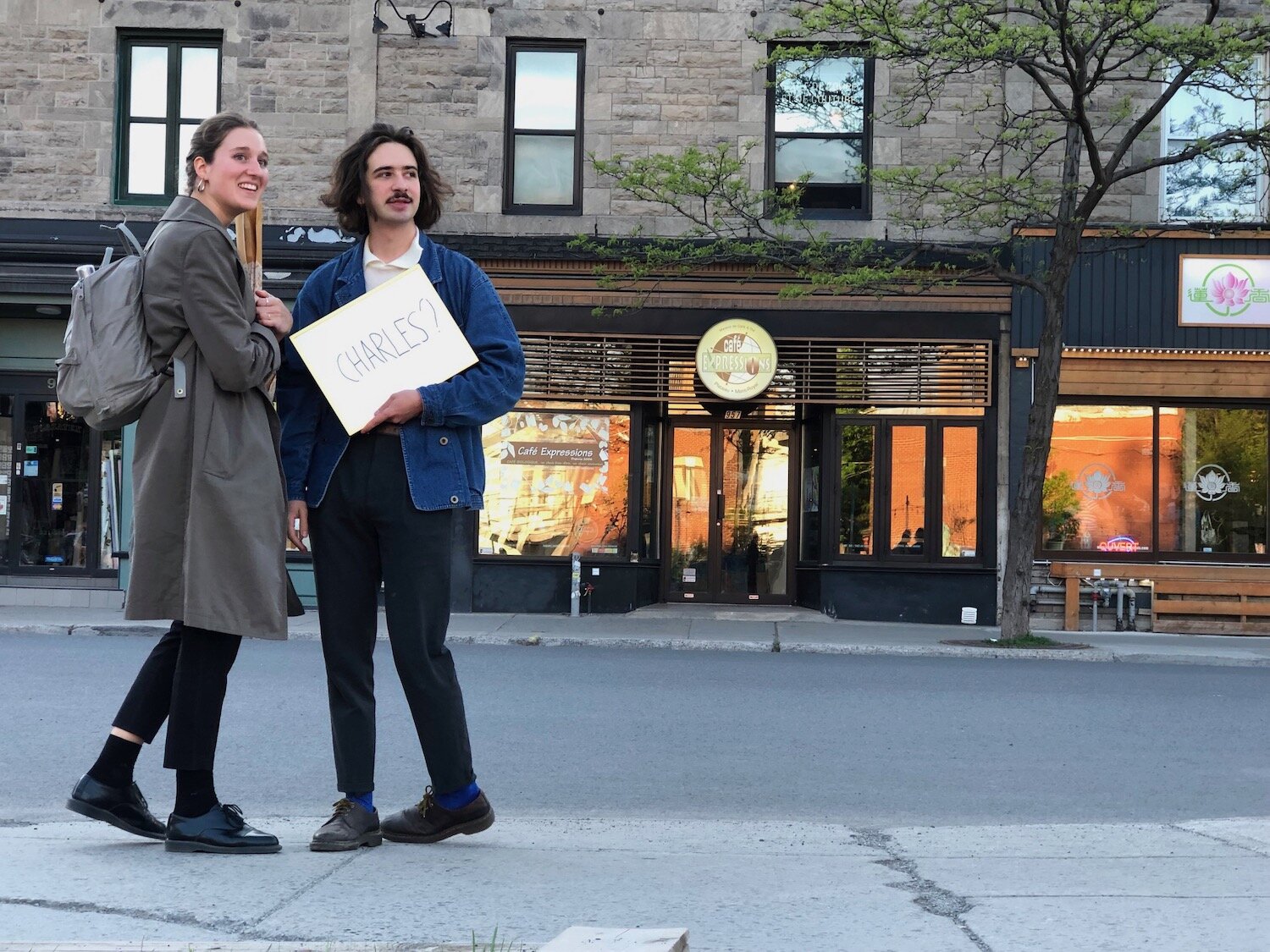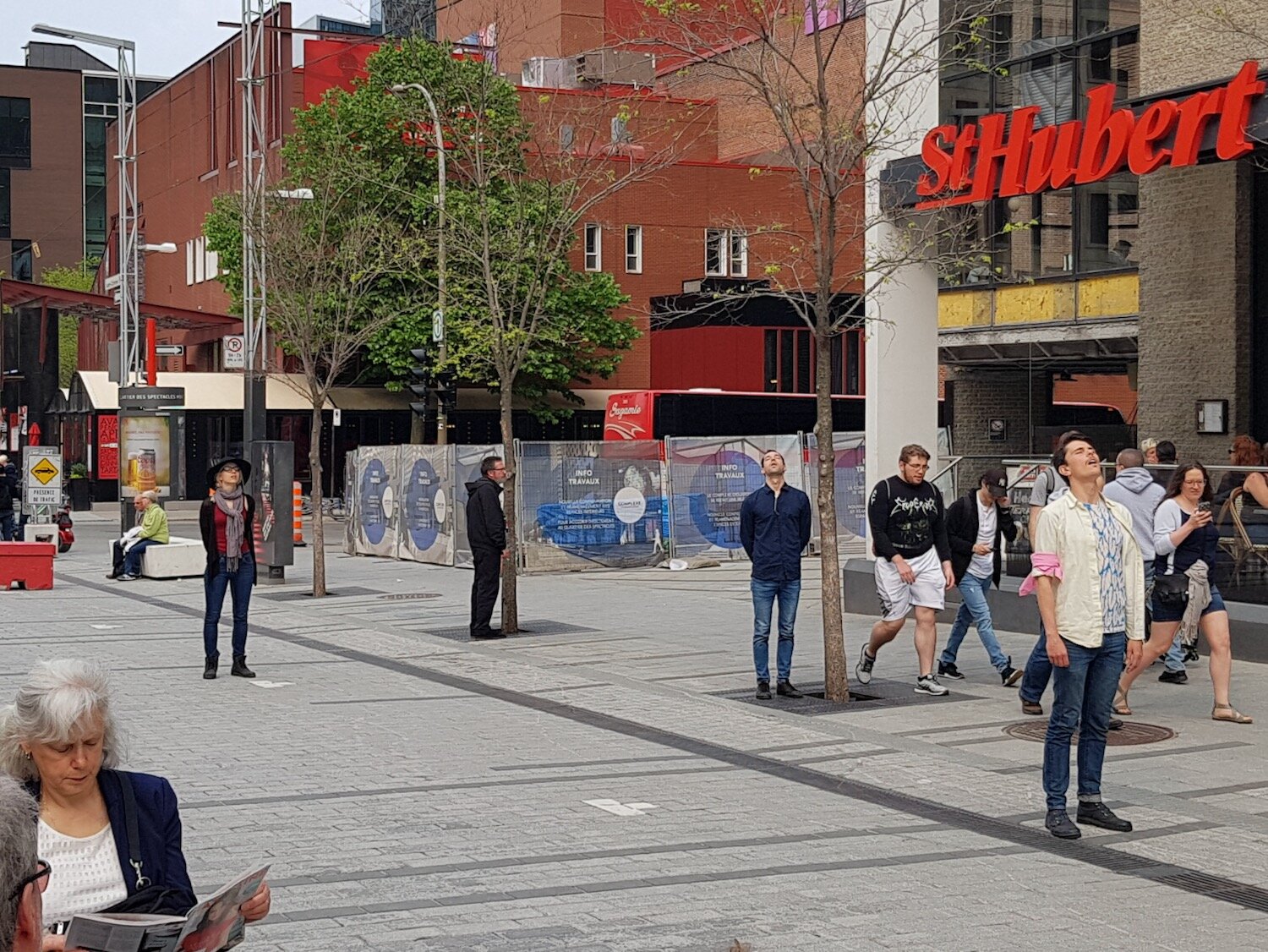 The Montréal edition of Playing Up / Se la jouer is coproduced by the Partenariat du Quartier des spectacles and LA SERRE – arts vivants with the support of Conseil des arts de Montréal and Arrondissement du Plateau-Mont-Royal. It is imagined and coordinated by projets hybris.
Schedule and details
PLAYING UP 2019
10 days of participatory workshops in public space
As part of OFFTA - live arts festival
Games last 1 hour and start every 15 min
Free (registration on site)
7 years and over
Teams of 2 to 7 people: come with your team or come by yourself and be paired onsite
Place de la Paix
Quartier des spectacles
1182 St-Laurent Boulevard, Montréal
May 24 to June 2
Monday to Friday: 5 to 9:30 pm
Saturday and Sunday: 1 to 9:30 pm
Place des Fleurs-de-Macadam
Plateau-Mont-Royal
962 Mont-Royal Avenue East, Montréal
Saturday, May 25 and Sunday, May 26: 1 to 4 pm
Monday, May 27 to Friday, May 31: 5 to 8:30 pm
Saturday, June 1: 1 to 8:30 pm
Sunday, June 2: 1 to 4 pm
Mediation team
At each site, a team of mediators welcomes you and guides you through the activity:
Benjamin J. Allard, Antoine Beaudoin Gentes, François Edouard Bernier, Marie-Christine Boivin, Marie-Hélène Chaussé, Marilyn Daoust, Morgane Duchêne Ramsay, Philippe Dumaine, Guillaume Duval, Audrey Laurin, Arkadi Lavoie Lachapelle, Audrey Leblanc, Keven Lee, Gabriel Léger Savard, Jean-Philippe Luckhurst-Cartier, Kamissa Ma Koïta, Hugo Nadeau, Danièle Simon, Pascale Tremblay, Andrea Ubal, Jacqueline van de Geer
Credits
MONTRÉAL VERSION
imagined and coordinated by projets hybris
coproducers: Partenariat du Quartier des spectacles, LA SERRE – arts vivants
with the support of: Conseil des arts de Montréal, Arrondissement du Plateau-Mont-Royal
main coordinator: Danièle Simon
curator: Philippe Dumaine
dramaturgy: Marilou Craft
translation: Marilou Craft (fr), Christelle Saint-Julien (en)
coordination support: Antoine Beaudoin Gentes
technical director: Catherine Fournier-Poirier
furniture: Kermesse
graphic design: Samuel Alexis Poliquin Communications
illustrations: Véronique Lévesque-Pelletier
ORIGINAL VERSION
original artwork: Sibylle Peters (GE)
produced and published by: Live Art Development Agency (UK), FUNDUS THEATER / Theatre of Research (GE), Tate Early Years and Family Programme (UK), Bästa Biennalen (SE), Live Art UK
with the support of: Goethe-Institut London, Collaborative Arts Partnership Programme (CAPP)
visual design: David Caines, Maja Bechert